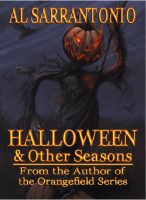 I know this little web journal has accumulated some dust in the last months, but things on my end have been busy and hectic. Still (and despite a serious chest cold that's keeping me indoors), I love Halloween and I had to drop by for a few moments. I love everything about the holiday, and I've been trying to sneak in a few short stories here and there in between the books I've been reading for my studies at UCF.
Lyla has never been this excited for a holiday. At three years of age, it's amazing to see how animated she gets about the idea of trick-or-treating and dressing up. I often wonder what life must look like to her--everything new and vibrant and exhilarating and novel. Dang, she's a good kid. We couldn't have been more blessed in that regard...
If you're looking for some Halloween goodness, look no further than Halloween & Other Seasons, by Al Sarrantonio. Be forewarned, though: this collection is seriously dark.
Sarrantonio's collection of short stories doesn't pull any punches.
In fact, it hits you right in the throat from the first story, "Summer," and keeps the pressure on throughout the collection. "Summer" is a cautionary tale, a realistic view of youthful nostalgia that plays with the old maxim be careful what you wish for to keen effect.
"Sleepover" is haunting and sorrowful. Those kids (shakes head) deserve so much more from life. Sadly, there experience is the reality for some, and Sarrantonio's central message here holds much truth.
"Eels" is perhaps the most frightening story. Sarrantonio doesn't shy away from serious themes, dealing here with child abuse. It's a dark, dark tale, and I can only hope that a reunion was in store in the third act...
"Letters from Camp" tells the tale of a punishment camp for wayward boys. Macabre stuff, this one...
"Roger in the Womb" had me in stitches. Again, this one has much to say about the human condition and the notions we hold about the facade of safety...
There's a kinship in these tales, both in style and spirit, with Ray Bradbury's best short fiction. In fact, this feels like a companion collection to the late great author's unrivaled The October Country. In a few cases ("Roger in the Womb" probably being the best example), it expands on the themes Bradbury explored in that collection.
Sarrantonio's prose is good--lyrical and rhythmic. He has a great eye for observation, though that also gets him in trouble in spots. He lingers over the smallest details, often to great effect, and occasionally to ill effect. In spots, the writing bogs down with saccharine sweet details that might make some skim forward to get back to the story.
That's a minor quibble, though, and it, too, is evidenced in Bradbury's writing. I liked this collection very much (B+) and would recommend it to anyone with a stomach for stories that don't finish up with the traditional happy resolution.
To my thinking, we need more stories like these.
And, for those of you looking for a little darkness in your day on this, the final afternoon of October, my collections These Strange Worlds: Fourteen Dark Tales and The Silver Coast and Other Stories will be free until midnight this evening. Take a look and drop me a line if you like what you see!
Happy Halloween!