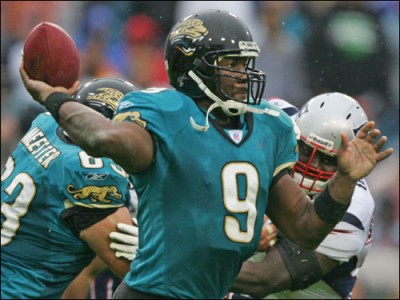 I love this time of the year. Even though we set a new record for high temperatures today (98) in Jacksonville, the weather is about five weeks from cooling down a bit. The baseball pennant races are heating up. College football starts on Thursday, with my Oregon Ducks playing in the national spotlight next Saturday.
But not all is right in

Jagland

. It's pretty far from it, actually.
I adore these Jaguars. I stick up for that guy you see in the picture there quite a bit; maybe I should stop doing it. David is seriously erratic, and he seems so far removed from his best play (2007). He just threw a sweet deep ball and Jason Hill

whiffed

on it, but he takes far too many sacks and he misses (usually high) a lot of open throws. I watched the Jags beat Atlanta last week and I saw Matt Ryan throw the ball away at least three times.
Just do that, David!

Sheesh

!
Our offensive line is bad in pass protection. The team can block the run okay, but they struggle with pressure, and it doesn't help that our first and second round picks from two years ago are pretty much either turnstiles or they're injured.
Our secondary is bad. I'm watching Ryan Fitzpatrick look like John

Elway

in his prime right now. He hasn't missed a throw. 10/11 and two touchdowns, and most of it isn't even close. He's making our secondary look terrible, which I think it is (when we lost to New England in 2007, Brady only missed two throws the whole night!).
Our

wideout

core is probably the worst in the league. Poor Mike Thomas. He's a stud, but he is facing a serious deficit when the teams double him all the time because nobody else can catch it.
Marcedes

Lewis is a great player.

Rashad

Jennings is a great player. Maurice Jones-Drew is a great player. I think Tyson

Alualu

is good, and Daryl Smith can really play.
The Jaguars have a ticket-selling campaign. They keep airing these commercials with the players chirping, "It's go time."
If this team continues to play like this, it'll be "go time" for Jack Del Rio and David Garrard, among others...
To further piss in the corn flakes, I was terribly saddened to hear that Mike Flanagan committed suicide a few days ago. I watched

Flanny

pitch, probably, thirty games for my beloved Baltimore Orioles when I was a kid. It was strange--we were living in tiny John Day, Oregon, and our cable provider had a station called Home Team Sports. They carried all the Orioles games! Watched that team every night (my parents met and married in Baltimore, and we still have family up there), and

Flanny

was a fixture.
I won't deny that I got a little misty when I read that he took his own life with a firearm. I wish you well,

Flanny

, and I'm sorry that things had become tough for you in recent years. I hope you find some rest...
The

O's

, whose box score I still study every morning (yes, I get a real newspaper in my driveway), have won five in a row. I hope

Flanny

is enjoying the win they had last night over the Yanks (the

O's

will wear a patch with his number '46' on it for the rest of the season).
And, as I type this list of complaints out, David goes all David on me and has a monstrous, mannish run for a touchdown. Probably a top-10 play tonight on Sports Center. And that's why it's so damned tough to be a Garrard backer in this town! He keeps pulling me back in...
We'll be in section 405 for you on opening day, David. It's 9/11, and there will be a huge amount of emotion and passion in that stadium. I got your back. Not sure how Jeanne feels about you. But let's get this thing cranked up, Brother! Let's get this offense working!