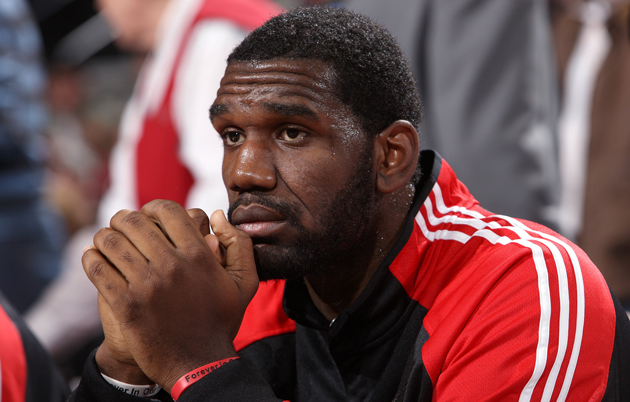 Sometimes, coincidence is just silly (maybe uncanny is a better term in this case). In the early 1980s, the Portland Trailblazers passed on a chance to draft Micheal Jordan. They took Sam Bowie because they needed a post presence, and Jordan would have had a hard time playing with Clyde Drexler getting the bulk of the minutes at the '2' guard.
Bowie played marginally well as a Blazer, when he did play, but his career was hijacked by injuries. Those injuries, coupled with the fact the Jordan revolutionized the sport and became one of the greatest athletes in the history of sport, relegated Bowie's name to the margins of Trivial Pursuit.
The same thing, sadly, has happened to Greg Oden.
Jason Quick does a great job of running the sad details down here. It's an unfortunate plight, or as much of a sad story as one can have for a player that has banked many tens of millions.
Let me tell you, Portland reveres its professional basketball team. When 20,000 people show up downtown to welcome you, you understand how big pro hoops is there in Rip City. I have fond memories of gathering around the radio and listening to the great Blazer teams as they went deep in the playoffs with Terry Porter, Kevin Duckworth, Buck Williams, Clyde the Glide, Drazen Petrovic, Arvydys Sabonis, and the rest of the early '90s squads. I loved the early '00s squads, with Strickland and Kenny Anderson, Gary Trent, Bonzi Wells, Nick the Quick, J.R. Rider, Sheed, Darius Miles, Mighty Mouse and Scott Pippen.
And then we have this current group. They've been together about five years. Now Brandon Roy is out of the league with bad knees of his own and we're struggling to win games. We lost last night to the Lakers on the road, and we're hovering around .500.
When we drafted Greg with the #1 pick, it seemed perfect. Pair him LMA and B.Roy and count the rings.
That hasn't happened. Instead, Kevin Durant has become the league's most consistent performer and one of its top stars. Greg? Well, he's gone through surgeries and rehabs.
Unfortunately, he made more headlines for having a nude photograph make the rounds on the internet than he ever did for his play.
When he was right, he really was right. He could board like a monster and he occupied so much space that he was like two defenders in the paint. It would have been great to see what he could do.
But the injuries probably won't allow that. Three microfracture surgeries is too much to come back from. And that's why it's unfortunate, because Greg bought into the city and the fans that adored him. He got it, and he was going to be great there.
Many Blazers never leave Portland when their careers are over. It's too nice a place, and the people there treat them very well. But the fans have turned on Greg, and I imagine he'll leave town. He'll have to channel his competitive spirit in another way, and that's why it's an unfortunate plight for him.
I believe he just wants to play, but his body won't let him.
Here's to good healing, Greg. Thanks for putting in the effort on all of the rehabilitation assignments, and I hope Portland left enough of a good impression that you keep a condo in the KOIN tower or something like that.
I love the Blazers, but damn if they aren't snakebit when it comes to drafting bigs with early picks...