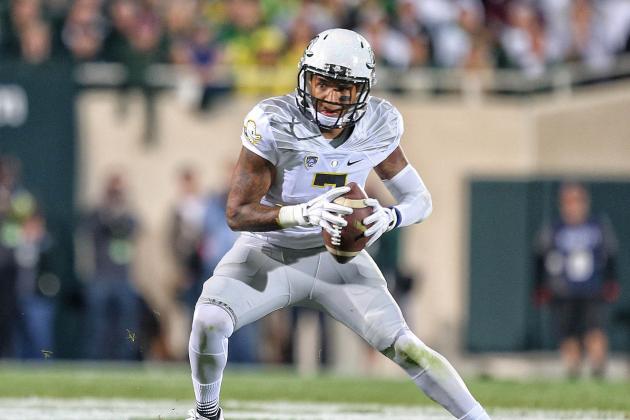 Much has been said and written about the demise of the Oregon Ducks. Let me be clear: It's all a bunch of crap.
Oregon is in fine shape, regardless of the whining and bluster that has crept into so many message boards and chat rooms. The team lost a generational talent in Marcus Mariota, and a number of quarterbacks transferred out of the program in the last few years as they grew impatient with the lack of playing time.
Jeff Lockie, Mariota's understudy, stuck it out and has tried his hand at running Oregon's high-octane blur offense, but he just doesn't have a very strong arm and he's a little phlegmatic as a runner. He's been a fine, sedulous Oregon Duck (already has his degree) and I'm glad to have him on the team, but he's just not a very good quarterback at this level.
Royce Freeman and Taj Griffin are stud tailbacks, but when the QB can't keep secondaries honest, it's awfully hard to make yards in the run game. Things will improve for the offense as Vernon Adams, Jr. (pictured), returns to action. He might suit up as the Ducks go for their eleventh win in a row in the series with Washington on Saturday night.
The secondary is young and needs seasoning. Teams like WSU and Cal are tossing the potato around the yard on the Ducks, and we need to elevate the play there.
But, as I said, the sky isn't falling. Look, Oregon has been ranked in the AP top 25 for six years! Six years! We just fell out of it for the first time since 2009 when Utah blew our doors off two weeks ago.
I am a lifelong Duck, and it's funny watching all of these bandwagon fans piss and moan about the team. Honestly, some of these weirdos were five years old when Joey Harrington was taking the Ducks to the #1 spot in the polls.
Since 2010, Oregon has the country's highest winning percentage. We're recruiting with the best of them, and our facilities are among the finest in the country. I support Coach Helfrich and, while I think Don Pellum needs to make some schematic changes (and blitz more), I'm happy with the team.
Suffering through the lean times makes success just that much sweeter. The Ducks will be fine, and when Travis Jonsen takes the reins next year, you'll see a different outcome on the gridiron.