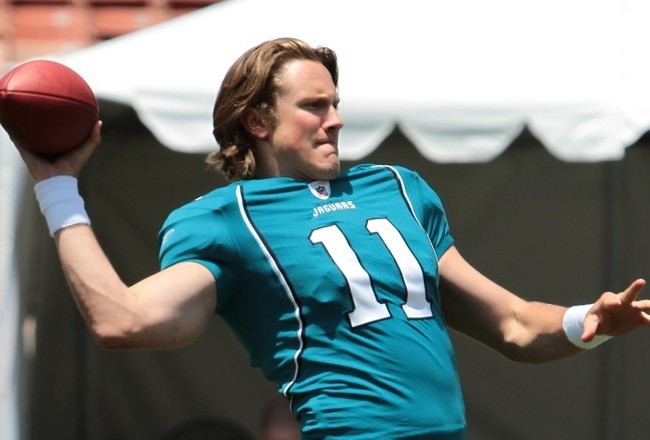 After a 23-10 loss to the New Orleans Saints at home here in Jacksonville, this team is struggling to find an identity and, to be honest, beginning the countdown to the next high draft choice.
That's not at all to say the season is fruitless, or that this team won't be interesting. But I think, after Houston's play in the last two weeks, we can kiss the division goodbye and this team just isn't good enough to contend for a wild card in the AFC. Not with Buffalo and Tennessee starting to play some good football.
Blaine went 16-42 yesterday. It's the type of line that gets you booed off the field, especially after missing twelve throws in a row in the second half. But the thing is, Blaine looked really good in spots. My oh my, he looks the part! He's a big kid, and he stood in the pocket, didn't get rattled, and he made some excellent throws. That pass to Zach Miller on the touchdown was a freaking dart!
He had some bad misses, and his team didn't help him out (I counted at least three drops). He didn't play great, but he spun his head and went through the old progression tree. I love to see that, as those are the hallmarks of guys like Philip Rivers and Tom Brady.
The defense has been pretty good. Paul Posluzny was a great addition, and I think Dwight Lowery and Drew Coleman have been nice additions.
Maurice Jones-Drew is still running like a man possessed. Miller and Lewis, when healthy, are very good tight ends.
The cupboard is not bare, and this team is very competitive.
This team will be okay, and it needs to grow. I want to win a bunch more games this year, but if Blaine continues to make strides and we end up with a play like Justin Blackmon in the next NFL draft? Whooh! We could be getting back to the days of Brunell to Smith and McCardell around here...