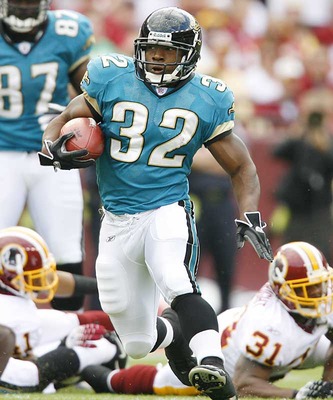 It's August 1...
There are Pop Warner teams running wind sprints over at Ed Austin Park.
The local college squads are taking physicals and running in groups--the freshman checking into their dorms before carrying the vets' equipment out to the practice fields.
The Jaguars have been in camp now for a week. They're practicing in full pads and scrimmaging on Friday. Hell, they play a preseason game in ten days!
And yet, Maurice Jones-Drew hasn't even met Jacksonville's new head coach yet. Nope. He hasn't even taken the time to shake Coach Mularkey's hand (this according to Dan Hicken of Sports Final Radio). He skipped OTAs with the team. He hasn't spoken with our management.
He wants more money, but he didn't complain when he signed his name on that contract and made millions in guaranteed cash on his last contract. This was back before he had ever rushed for 1,000 yards. This was back when GM Gene Smith went to his camp and tore up his rookie deal, rewarding him well in advance of things he never showed he could do. He has two years left on his deal.
Two years!
So now he sits out, getting fined $30,000 each day, and his offensive line is practicing for five hours daily in the Northeast Florida heat. They're busting their asses in preparation to block for a guy that has a problem honoring his contract!
I mean, Maurice, c'mon! Why did you even sign it if you didn't think you could play it out?
He's a great player. He has the heart of a lion on the field. He's not the tallest back in the league, which is why he fell into the second round as a rookie, but he's performed well all the same. Still, his achievements in no way preclude him from meeting our coach, honoring the deal he signed, helping a second-year quarterback take a leadership role on the team and helping the Jaguars get back into the playoffs. This hold-out shows a serious deficit in character.
If Maurice had played poorly last year (he didn't catch many balls, and he had more drops than I've ever seen him when Blaine did find him out of the backfield), would he have given money back to the team? I doubt it. I didn't hear anything about Marcedes Lewis doing that, and he was one of the very worst players in the NFL at his position last year.
Will Maurice get paid? Sure doesn't sound like it. In fact, I think the Jags may actually make him pay his holdout fines (many teams waive those fines when a new deal gets done, or the player shows up to camp).
So what happens now? Maurice is set in his ways. He plays his football in Duval County, but he lives in California. He doesn't care that much about Northeast Florida or the fans here, and he wouldn't even be here if the Jags hadn't taken a chance on him in the second round. He would never come here as a free agent--would never choose to make his home here, like Jimmy Smith, Mark Brunell and Tony Boselli have.
He's also very prideful. It wouldn't surprise me to see him miss all four preseason games. Would he sit out week one against the Vikings?
Well shoot, he might have no say in it. While he's at home, Rashad Jennings is kicking ass out there. Rashad can run it. He's an upright back that has averaged more than five yards a carry in limited touches over his career. He's in the best shape of his life (according to him; I heard him interviewed on the Frank Frangie show about a month ago) after a minor knee injury last year (he said he could have played late in the season if it were allowed) and he's primed to break out. Rashad is a glider. He catches the ball well and, at 235 pounds, he can pick up the blitz.
Maurice might get Wally Pipped if he keeps this nonsense up.
But hey, at least he'll have a comfortable seat on his couch out there in California over the next two years from which to watch Jennings tote the rock...