Man, I love Major League Baseball. My Orioles are in a bit of a swoon as of late (they've lost four in a row), but they're built to contend all year. I'm expecting to take Lyla down to the Baseball Grounds a few times this summer to see the future Marlins play here in Jacksonville, which will be a nice way to spend a leisurely afternoon.
I was looking though my baseball cards yesterday and thought I'd compile a list of the top ten pitchers I've ever seen pitch. My criteria is that I excluded any pitchers directly tied to PEDs (sorry, Rocket) and I had to have watched the guy throw, whether it was on television or live at the ballpark. Obviously, this list will include a bunch of all-stars (yeah, yeah...I watch the MLB All-Star game every year) and postseason stars.
I'm not talking about stats here. I'm simply discussing make-up, stuff, consistency, and skill. Winning plays a role in this, but some great pitchers have been mired on terrible teams throughout the years. Just ask King Felix how he feels about that...
First, here are the honorable mentions:
Mark Langston, Mike Mussina, Justin Verlander, David Price, C.C. Sabathia, Mike Scott, Fernando Valenzuela, Steve Avery, Gregg Olson, Bret Saberhagen, Jimmy Key, Curt Schilling, Rick Reuschel, Dennis Eckersley Lee Smith, David Cone, Ramon Martinez...and many more I've not mentioned.
#10 Orel Hershiser
Hershiser had some of the most dominating stuff I've ever seen over his record-setting streak. A great pitcher with a really gutty postseason make-up...
#9 Dave Stewart
I watched Dave pitch in person back in the late 1980s. He would pull his bill down low over his eyes and just mow guys down. For about three years, Stew was simply unhittable...
#8 Pedro Martinez
Great player that was money in the postseason and flashed some of the best stuff for a five-year window that has ever been seen in the major leagues...
#7 Tom Glavine
I have this card, and a few others of his rookie vintage, in my collection. I've maybe watched more innings of Tom Glavine baseball than any other pitcher. I loved the way he changed speeds and I loved the way he kept hitters off balance. Tom Glavine was, and always will be, the very definition of a twirler...
#6 Roy Halladay
Here's a power pitcher that really knew how to pitch. Roy just won his big #200, and I hope he gets his body right and grabs another thirty or forty wins. A dominant pitcher, I've watched Roy pitch probably over 100 innings. It's been a joy...
#5 Mariano Rivera
I saw on the news yesterday that the all-time leader in saves has pitched 141 postseason innings, and he's allowed just eleven runs. Eleven runs! I know this isn't about stats, and it's about stuff, but this guy has the stuff. We call it the cutter. MLB players call it unhittable...
#4 Dwight Gooden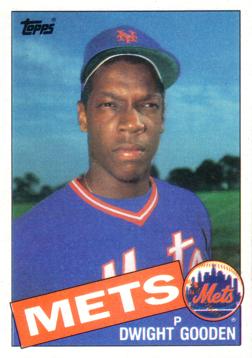 Unhittable. Dwight has what I consider to be the second-best all-time, single-season pitching record under his belt. He won almost 200 games, and his stuff was so filthy in the middle 1980s that the CDC refused to fill out a report on him. He was so filthy they just couldn't justify sending in the field agents...
#3 Greg Maddux
A fantastic cerebral pitcher with a deceptively good fastball, Maddux was amazing. I was tuned in when he almost pitched a no-hitter against the Astros back in 1995. This guy was so good that I can't believe he's #3 on this list!
#2 Nolan Ryan
Nolan was a treat to watch when I was a kid. I can't imagine how good it must have been to watch him throw when my old man was catching Orioles games down at Memorial Stadium. Nolan was dominant. Nothing else to say but that. "If he ain't struck you out, then you ain't nobody." ~ Ricky Henderson
#1 Randy Johnson
I have this card as well. Hell, I have most of these here. I love Randy Johnson. So dominant. So unforgiving. So unhittable. So many accolades. It's hard to think about winning the Cy Young award four times in a row, but the Big Unit did it. By virtue of television and proximity to Oregon, I watched and listened to loads of RJ baseball. Certainly the best I've ever seen...
This list will change over these next fifty years. Thank God for baseball!
As I write this, Nate McLouth has just crushed a walk-off against the hated Yankees. Here's to baseball, and here's to the Orioles, and here's to you, baseball fan, that might have stumbled upon my subjective ramblings!